Our level of expertise is unsurpassed in North America
Spire is built upon more than 40 years of experience and knowledge of our co-founder Anthony Palandro, which is matched by only a handful of flooring installers in the country. Anthony is one of few certified wood flooring inspectors in the Northeast and analyzes wood flooring failures and mistakes on a daily basis. We utilize this expertise to recommend the right high quality floor for each situation and to ensure proper installation.
We value quality standards
Our team of certified installers working under Anthony's guidance performs each installation with significant attention to detail. To further guarantee quality, we are a NWFA member and stay up to date on all industry standards and guidelines.

Most importantly, our work is our passion. We're craftsmen at heart and take great pride in delivering the highest quality standard of work. We understand flooring for your home is incredibly personal—if it isn't good enough for our family, we won't consider it good enough for yours.
Customer satisfaction is our priority
We understand that courtesy, timeliness, and cleanliness are just as important as final results. Our goal is to meet or exceed your expectations and to get your job done seamlessly. We also value trust and ensure you'll have an easy-to-reach primary contact throughout the entire process.
We offer an unparalleled experience
As an independently-owned family business, we strive to offer an exceptional experience. We want to make the selection process as easy and enjoyable as possible.
On our website you can browse our product selection. Our beautiful showroom is organized and every product is priced clearly. And because of our experience, we have more than enough resources available to help you make an informed decision.
Sustainability is our passion
We are especially proud to offer a selection of high quality, environmentally friendly flooring products to help you achieve the purest indoor air quality attainable and a healthy home environment.
Our eco-friendly options include hardwood flooring, cork, Marmoleum, wide plank and FSC certified reclaimed wood.
Are you ready to experience the difference a Spire floor will make to the appearance and enjoyment of your home? Call us at 484.422.8817 or contact us online for personal attention to your flooring needs.
Thanks again Anthony. I'm very happy with the way the floors turned out. I'll definitely refer you to anyone who asks about flooring. God Bless
We needed our kitchen floor replaced because of water damage. Anthony matched it perfectly and was very professional. It was an A+ job.
The job done was excellent. Beautiful work. They kept things clean. They were prompt and finished when they said they would.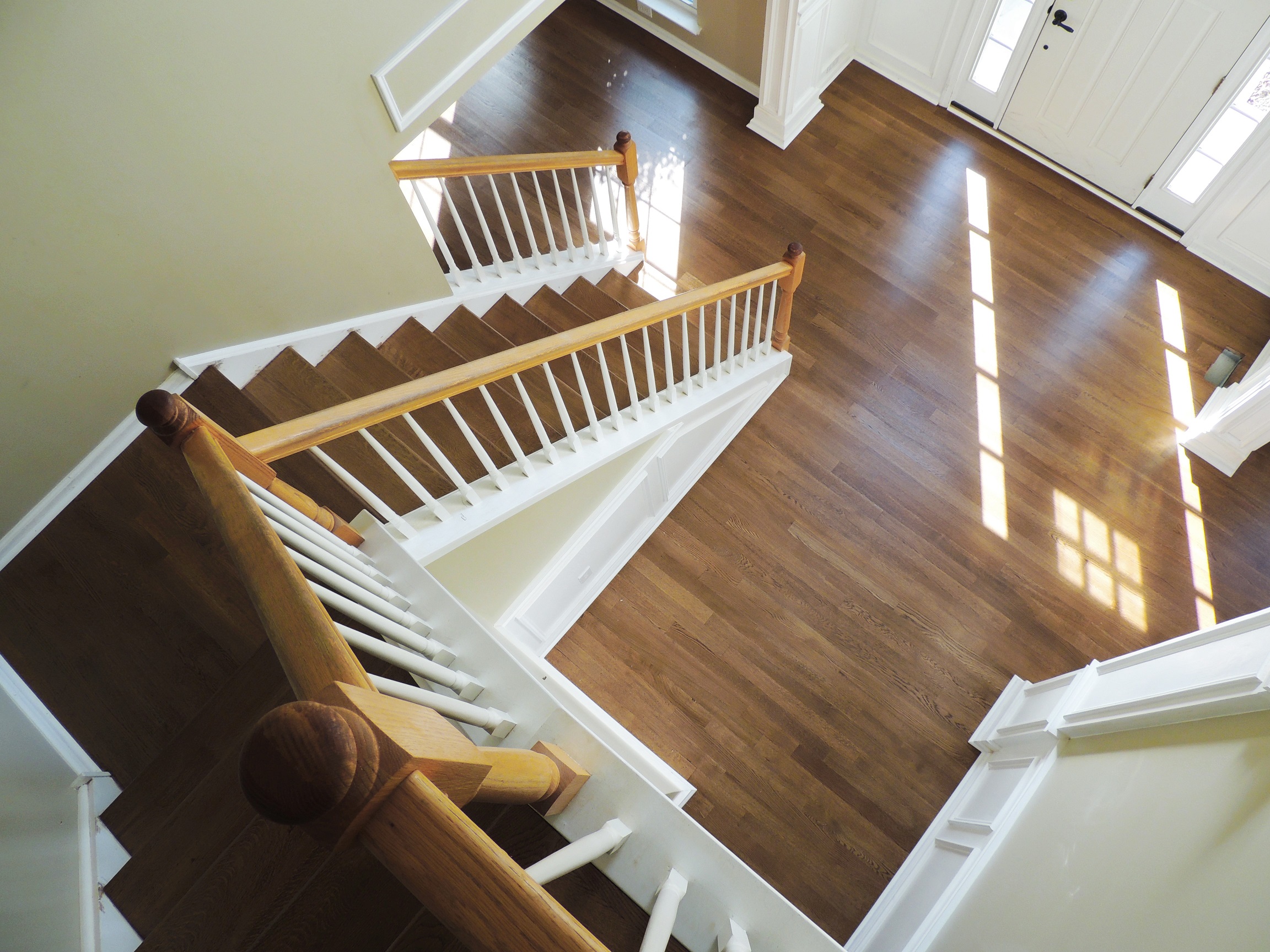 We couldn't be happier with how our floors and stairs turned out! I highly recommend Spire for any flooring work.
Anthony is very dedicated to doing a professional job. He made recommendations that will save me money in the long run. I would definitely recommend Anthony Palandro to anyone in need of flooring.
Spire Wood Flooring is a family-owned and operated flooring business; providing sales, installation, training, repairs and inspections to the Philadelphia Metropolitan Area.
With over 40 years of industry experience, we offer floor covering and related goods and services with a focus on high quality, environmentally friendly products that help contribute to increased indoor air quality and a healthy home environment. The flooring products that we offer include hardwood flooring, cork, bamboo, wide plank and FSC certified reclaimed wood.
Spire Wood Flooring is a NWFA member. Our service and installation process is carried out with significant attention to detail for quality craftsmanship and professional service. To guarantee quality, installations are done by our own team of installers who are up to date on all industry standards and guidelines.
Serving Philadelphia, Delaware County, Bucks County, Chester County and Montgomery County.